Kingswell's Pet Paradise was founded in July 2012 and is run by Clare and Paul Kingswell.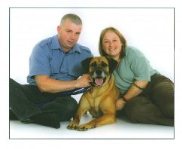 It is set in the South Downs National Park of Petworth Park, West Sussex, we are both fully insured (with Protectivity Insurance) and licenced (with Chichester District Council Licence Holder: Clare Kingswell Licence No: 19/00708/HBD_06).

We have always been animal lovers and spent both our childhood and adult life surrounded by different species of animals such as cats, dogs, rabbits, guinea pigs, chickens, hamsters and fish.

Clare has worked most of her life with animals. My first experience of working with animals was when I left school and worked for the Cats Protection League in 1992 until 1993, not only did I care for cats at this time but I also looked after a donkey called Annabel.

From October 1993 - November 2005 I worked at the Woodland Veterinary Centre in Midhurst and their branch surgeries at Liphook and Haslemere as a kennel hand and cleaner. This is where I gained most of my knowledge and experience. From June 2000 - December 2011 we had a rhodesian ridgeback (shown in the photo above) who in his later years had epilepsy.

Between November 2005 and July 2012 I took a break from working with animals and worked in an office for a web based company in Midhurst but during this time I walked dogs in my lunch hour.

In 2010 I started studying a level 3 NCFE Diploma in Animal Care with Stonebridge Associated Colleges, I graduated in February 2013 having gained a distinction

26th April 2014 I completed a Pet First Aid Course which I will renew every 3 years.

Paul grew up helping out on a farm, he also had dogs, rabbits and fish as pets. One of his dogs was diabetic and Paul used to help give the insulin injections.